Pasadena Roofing
If you're a property owner in Pasadena, Texas concerned about your home or business's roof, you're not alone. With extreme weather conditions and storms regularly targeting Texas communities, Pasadena roofing companies are kept busy most of the year.
This is little consolation if you're staring up through your ceiling and seeing blue sky instead of a roof. However, we are equipped to help Pasadena's property owners in time of need. Whether your roof is showing its age or has been ripped apart by storms, we're here to help with prompt, reliable service.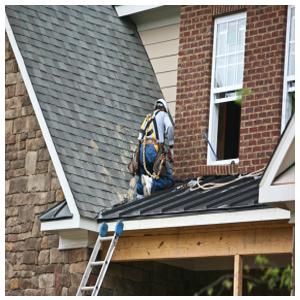 Pasadena Roofing Scenarios
Essentially, there are three types of roofing projects in Pasadena:
Roofs for new constructions and remodels
Roof installations due to damage or wear and tear
Roof repairs
Whether you are building a new home, adding a room addition to your home, or experiencing undesirable roofing problems such as roof leaks, worn shingles, missing shingles, and other roof damage, we are Pasadena roofing experts who are well equipped to handle the any job – large or small.
Pasadena Roofing Considerations
Repairing and replacing roofs in Pasadena requires careful consideration. Our first priority is to secure damaged homes as soon as it is safe to do so. For example, if your roof is missing or severely damaged, your home needs emergency roofing services and a rapid response. We offer emergency boarding and tarping services as well as full service storm damage roofing restorations.
For new construction and remodels, Pasadena roofing involves selecting quality roofing materials, choosing a roofing style appropriate for the home's architecture and neighborhood's style, and acquiring all necessary permits. In addition, your budget and financing needs are also addressed.
Roofing repairs bring with them their own considerations. The roof must be inspected and evaluated to determine the extent of the damage. Not only that, insurance companies are also involved. Our Pasadena roofers will carefully assess the roof damage and recommend the right course of action. Depending on the age of the roof and the extent of the damage, some roofs may be repairable while others may need to be completely replaced.
With hurricanes, wind shear, rain storms, hail storms, and general wear and tear, Pasadena's rooftops are bombarded by the elements on a regular basis. We're a local roofing company that understands Pasadena's roofing needs and works diligently to meet all of your personal roofing requirements.